NEWS The
conference site
will be located on
Via Falcone e Borsellino at Aktea Hotel
(near the main harbour, ferry terminal).
POSTER SESSION Participants wishing to present their work may prepare a poster(Size: max A0 (842 x 1189 mm)) within special sessions organized within the school program. Those who plan to present a poster must send an email to
liparischool@dmi.unict.it
no lather than July 1st 2016.
July 10-17, 2016 - Lipari Island
>> Mailing list registration <<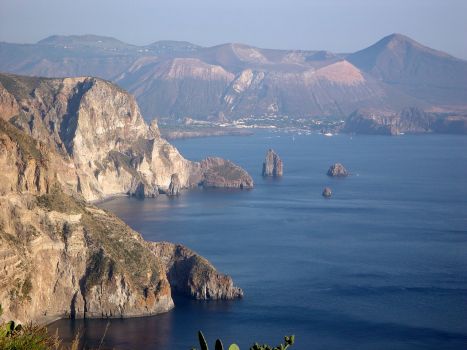 Aims and Scope
This summer school will provide opportunities to collect experience with modern data analysis, in particular Big Data analytics. This includes subjects such as how to mine data in the Internet and data of Social Media. Our main and special guest lectures will address the scope focusing on algorithms, computational models and practical results on this field.
Open introductory lecture
Closing lecture
Speakers
Guest Speakers
Schedule

Participants will be arranged in comfortable hotels at very special rates. The conference room (very close to the same hotels) is air-conditioned and equipped with all conference materials. Special areas are reserved to students for the afternoon coursework and study. The island of Lipari can be easily reached from Milazzo, Palermo, Naples, Messina and Reggio Calabria by ferry or hydrofoil (50 minutes from Milazzo).

Two kinds of participants are welcome. Students: Participants who are expected to do afternoon courseworks and take a final exam (The grades will be given following the ECTS grading scale). The course will involve a total of 24 hours of teaching. According to our university rules passing the final exam gives right to an equivalent of 6 ECTS credits in any Ph.D. program. Auditors: participants who are not interested in taking the final exam.
Registration fee is 600 Euros. The fee covers the course material, bus+hydrofoil Catania airport-Lipari-Catania airport, social events and coffee breaks. Late registration is 700 Euros.


Applications can be submitted from December 10, 2015 up to June 15, 2016. Late registrations will be accepted until July 10th. Admission notification will start on March 2nd, according to registration time. Applicants must include a short curriculum vitae.

The official language is English.
Directors
Alfredo Ferro (University of Catania, Italy)
Claudio Cioffi-Revilla (George Mason University, USA)
Dirk Helbing (ETH Zurich, Switzerland)
Steering Committee
Paolo Ferragina (University of Pisa,Italy)
Fosca Giannotti (CNR Pisa,Italy)
Giovanni Giuffrida (University of Catania, Italy)
Rosalba Giugno (University of Verona, Italy)
Vittorio Loreto (University of Rome "La Sapienza", Italy)
Sergio Palazzo (University of Catania, Italy)
Dino Pedreschi (University of Pisa,Italy)
Carlo Pennisi (University of Catania, Italy)
Alessandro Pluchino (University of Catania, Italy)
Alfredo Pulvirenti (University of Catania, Italy)
Andrea Rapisarda (University of Catania, Italy)
Carlo Ratti (MIT,Boston, USA)
People interested in receiving further information about the school can contact:

Lipari School Organization
Prof. Alfredo Ferro
Universita' degli Studi di Catania - Dipartimento di Medicina Clinica e Sperimentale
c/o Dipartimento di Matematica e Informatica
Citta' Universitaria - Viale A.Doria, 6 - 95125 Catania - ITALY
Tel: +39 095 7383071, +39 095 361277 (4:00 p.m. - 7:00 p.m. italian time), +39 095 7383087 (10:00 a.m - 12:00 a.m. italian time)
Fax: +39 095 330094
E-mail:liparischool@dmi.unict.it